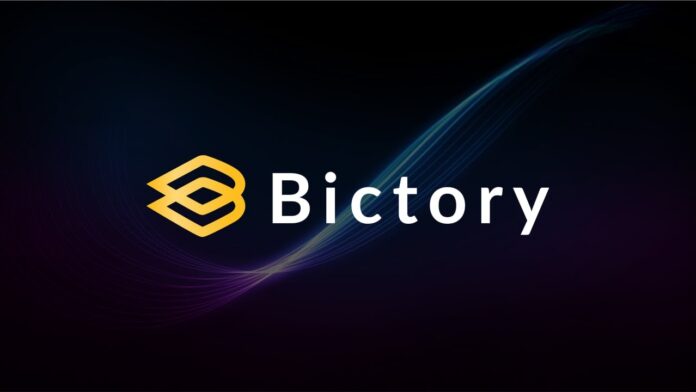 Bictory Finance
is a crypto network instituted as a hybrid widely used exchange platform that has, in addition, a crowdfunding platform. The platform has been developing its exchange network to offer centralized and decentralized options to projects on the
Concordium Blockchain
and across other networks in future. The team would be launching the alpha version which has been in development for a while in 3 weeks' time. This hybrid exchange is the pioneer platform leveraging Corncordium blockchain capabilities where the CEX and DEX will all interoperate. Apart from the Hybrid exchange network, Bictory offers a decentralized crypto launchpad platform to help upcoming crypto projects deploying on Concordium network to raise funds. Concordium is a blockchain with smart contract layer for business with focus on low and stable transaction costs and ID-verified participation. The choice to build on the Concordium Network, apart from the robust tech, is because of the protocol-level ID layer. This simply means that, any person, company or entity with an identity can get an account on Concordium, which invariably gets access to the slew of financial products on Bictory Finance How does the Bitcory platform operate? What are the basic features and benefits of this new platform? Keep reading to find out more.
What makes up Bitcory Finance Ecosystem?
Decentralized Exchange
The Bictory network introduces a decentralized exchange platform leveraging Proactive Market Maker systems to complete trades, swaps, and exchanges. Bictory's DEX introduction provides a more affordable and faster trading and transaction completion mechanism. They leverage the technological framework of Concordium blockchain to offer transactions at very cheap charges. Its proactive market-making tool allows less slippage on trading; thus, making the DEX even more affordable. Bictory's DEX will create bridges across other smart chains like Polkadot, Ethereum, and BSC to ensure utter chain interoperability. It will be simple for assets to cross chains into DEXes like Uniswap, Sushiswap, Pancakeswap, and Polkadex etc.
The Decentralized Crowdfunding Platform
In addition, a crowdfunding platform would be built on the Concordium blockchain to provide all upcoming projects with opportunities to thrive. This crypto launchpad is one in a kind, introducing simplicity, reliability, and convenience. One unique thing about Bictory's launchpad is its decentralized nature; it allows projects to set cross-chain swap-pools using a fixed buying price for tokens. In most launchpads, only a few people participate in IDOs. Although they set maximums per wallet, they don't have a maximum number of wallets per individual. Therefore, very few investors, each with multiple wallets, participate in the IDO. However, Bictory finance implants some unique
KYC
protocols and Anti-bot policies to ensure that only one wallet per person can participate in IDO. This platform has a protocol-level identity layer system that interacts with all wallets participating in the launchpad for identity verification. All projects which launch via Bitcory's launchpad will automatically be listed on their Decentralized and Centralized exchanges.
Centralized Exchange
Bictory Finance has been building a centralized exchange for the Concordium Ecosystem.  Just like its decentralized counterpart, it will provide effective trade transactions for mainly projects within the Concordium ecosystem and other networks. The centralized custodial exchange platform offers services like spot and margin trading options. Bictory centralized exchange is usable by both beginner and pro-level traders. For instance, it provides different trading modes for starters and experienced traders to select based on their level of experience. Moreover, this exchange platform provides a wide range of portfolio management tools to help traders manage their investments. Orders in Bictory exchange would be executed fast and near-instant, yet transaction fees will remain very low as compared to other exchanges. By setting custodial policies, Bictory guarantees users of trading and asset security. Security is a huge concern and this CEX according to the team has been built with robust security measures to ensure the safety of funds of users. Early investors would have the opportunity to test the platform when the Alpha version of the CEX is launched in about 3 weeks from now.
Benefits of The Platform
Since the mainnet launch, Bictory network will thrive over its other CEX and DEX competitors. Among the benefits of using this new platform include;
Fast Transactions- Bictory platform will foster transactions at unmatched speed. Generally, the platform's hub, Concordium blockchain, is highly scalable thus will process all its transactions at lightning speed.
Scalability and Interoperability- Concordium leverages sharding intercommunication to ensure great interoperability with other chains. The CEX and DEX will be interoperable to provide even better services.
Privacy and security- The concordium blockchain developers have always kept the users' privacy and security at top priority.
Protocol-level Identity Layer- Concordium has an identity system that will help in providing simpler and freer whitelisting and registration.
The BT Token
Bictory introduces the BT token to power its ecosystem. BT token is a Concordium blockchain-based asset, which will be issued very soon when Concordium launches the Mainnet. The presale and IEO of the BT token will leverage the Bitcory launchpad. BT tokens will be the fee payment mechanism in Bictory and its products. Moreover, trading BT tokens in the Bictory exchange will bring great discounts for the trader. Holders of the BT token will participate in the platform's governance by voting for any necessary changes. Projects using the launchpad will pay all the listing fees in BT. There is an ongoing Private Sale and interested users can reach out through the financial team via
[email protected]
Final Word
The Bictory platform introduces a holistic product on the Concordium blockchain network. This hybrid exchange comprising a CEX and DEX will interact to maximize the users' benefits especially with the launch of Moreover, the platform commits to ensuring the blockchain space benefits from new projects and solutions. As such, Bictory launches a decentralized launchpad platform which will, in the beginning, work on Concordium, but later on other blockchain networks. The combination of a DEX, CEX, and launchpad makes Bictory a platform to watch out for in the future. More information on Bictory's advancements is available on their social media pages like
Twitter
.