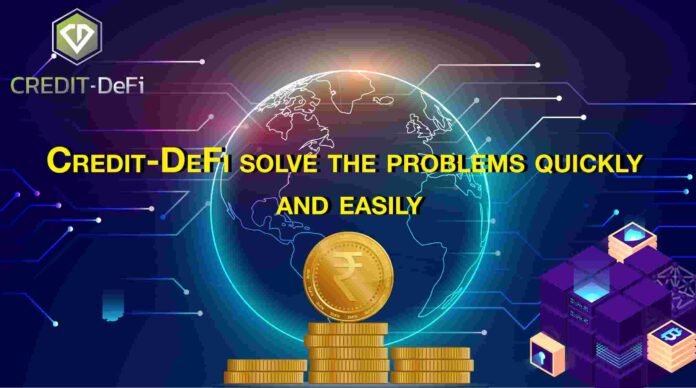 What is DeFi?
DeFi stands for Decentralized Finance, which means decentralized finance.
DeFi is a decentralized finance platform. In which, organizations, markets or financial instruments are managed decentralized.
DeFi utilizes the power of Blockchain as decentralization and transparency to create an open finance. In DeFi , everyone can access and use it anywhere, anytime without being governed by any individual or organization.
What is Credit-Defi ?
CreditDefi is a decentralized exchange platform built on CRD ecosystem – a new platform that allows CreditDefi to better secure and avoid hacker attacks in transactions and archives. CRD is the official token in the CreditDefi Limited ecosystem. The CRD token is issued on top of Ethereum's latest platform. CRD acts as a base electronic currency that performs the function of stacking and exchanging transaction value on the blockchain platform. In addition, CRD is also used as a fee schedule for trading and listing activities on exchanges. CreditDefi is positioned as an exchange that can build and develop a decentralized database – realizing the essence of the decentralized transaction network, true to the essence of DEFI.
Inadequacies in transactions
Ø  Security: Hackers use Ddos attack to steal a lot of assets and data being stored on the exchange.
Ø  Transaction fees: Expensive transaction fees are always a matter of concern. On outdated protocols like ERC20, peak fees can over $ 100 for per transaction.
Ø  Transaction limit: Currently all exchanges only place orders for immediate trading (order market), which is very difficult when the investor cannot have the right to place the desired exchange order in future.
Ø  Market manipulation : About 40% – 60% of transactions on cryptocurrency exchanges today come from Automatic Bots.
Ø  Cross-chain: This technology has been applied to decentralized exchanges, but it is still not completely thorough as there is still need for 3rd party confirmation, internet connection is required to be able to trade.
Ø  Most cryptocurrency attacks come from centralized exchanges, costing billions of dollars each year. The most typical example is the hack of the Mt. Gox happening in Japan which lasted from 2011 to 2014 took away 792,500 BTC, making the exchange incapable of operation and having to stop trading permanently. And a lot of investors suffered heavy losses in this attack.
Ø  All investors need a robust, secure and secure exchange environment, where they can safely trade, invest and perform a variety of functions, but still retain control. Full control over all of its assets. No intermediaries, no government intervention, complete transparency and safety of your property.
Credit-DeFi solve the problems quickly and easily
Credit-DeFi declare to use the latest tool to help you smoothly overcome all difficulties in the financial market:
       

ERC-Credit-Defi platform:

Gives users more control over the tokens owned, enhanced features to reduce block height in transactions.

       

No transaction fee:

All transactions generated by sellers and buyers on CRD are completely free

       

White/Black List:

Another feature of the ERC-777 token is the ability to whitelist and blacklist.

       

Unlimited Order Book:

CRD saves you time (Saving Time) by allowing you to place unlimited buy / sell orders.

       

Unrestrained transaction:

Trading activities between two buying and selling parties are conducted freely and very transparently, there is no automatic trading bot, no exchange intervention changes the operating mechanism of the market.

       

CRD swap:

Token swap is a part of CRD's development plan. Here the CRD acts only as a bridge for buyers and sellers to exchange assets from each other.

       

Distributed database:

The hashing mechanism with hash functions and database distribution helps CRD avoid almost all network attacks, including ddos ​​attacks.

       

Stablecoin CRD:

After going into the development roadmap, CRD will launch the Stablecoin code as a premise for credit card issuance accepted by banks.
Thank you for reading!