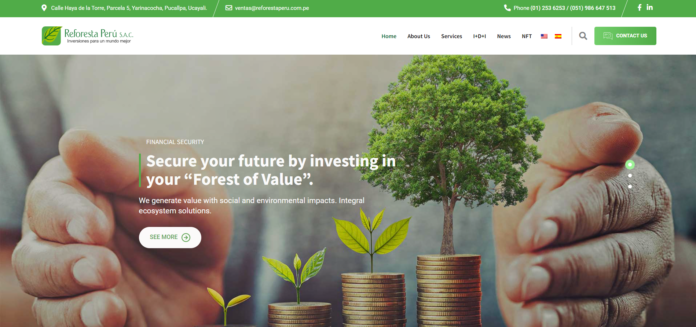 The decline in forest cover in the Amazon has propelled Reforesta to seek new ways to shed light on such an important issue. Reforesta, a leading forestry design and conservation initiative, will launch digital artwork in the form of NFTs, which depicts the spirits of the Amazon rainforest.
Reforesta aims to collect  $1 million 1,000,000 from the NFT sales to fund a reforestation initiative that involves planting teak and eucalyptus trees in the Amazon Forest.
NFT Collection That Raises Funds to Restore the Lungs of the Earth
The digital artwork collection, which is 7777 in number, represents what the team of Reforesta refers to as the "Totem Guards." Each Totem Guard is an amazing image of a tree generated by artificial intelligence. They represent the guard spirits of the Amazon rainforest who gathered together and reached out to people. The initiative aims to depict the amiable future that may become a reality within our lifetime if we all join hands to save the Amazon Forest.
The Amazon is the world's largest remaining tropical rainforest. However, deforestation is reducing carbon stocks and altering the regional climate. Reforesta commits to restoring the diversity of Amazon Forest through blockchain technology, using NFTs. That means that with every NFT sold, more eucalyptus and teak trees will be planted to help restore CO2 levels in the Amazon. For the record, teak and eucalyptus both play vital roles in creating clean air and water, maintaining a healthy climate, and providing habitats for wildlife.
Uniting to Protect the Amazon
It is estimated that the effects of climate change, forest degradation, and more forest fires could result in 60% of the Amazon rainforest disappearing by 2050. Additionally, wood products from natural forests are declining due to greater consumption and loss of forest cover.
The special NFT drop serves as the next step in Reforesta's commitment to caring for the earth through sustainable forest management practices. Reforesta has been the leader in sustainable teak and eucalyptus tree production for thirteen years and has extensive experience in the industry. The team aims to use NFTs as a catalyst for action because they believe blockchain has the power to change the world.
How to Participate in Totem Guards Minting
The digital artwork minting will happen in three stages: the first batch will be launched on [date TBC]. The entire NFT collection can be viewed on Reforesta's official website. The minting process is entirely secure via the MetaMask wallet. To participate in the minting, you will need to use Ether as the token and Ethereum as the blockchain network. Collectors who buy into the Totem Guards NFTs will gain membership access to the Reforesta community and future projects. They can also keep track and view how many trees they help to plant.
To view, purchase, and learn more about the entire NFT collection, please visit:
Website: http://reforestaperu.com.pe/
Twitter: https://twitter.com/reforesta_offic
Discord: https://discord.gg/JubWfQ4vKu