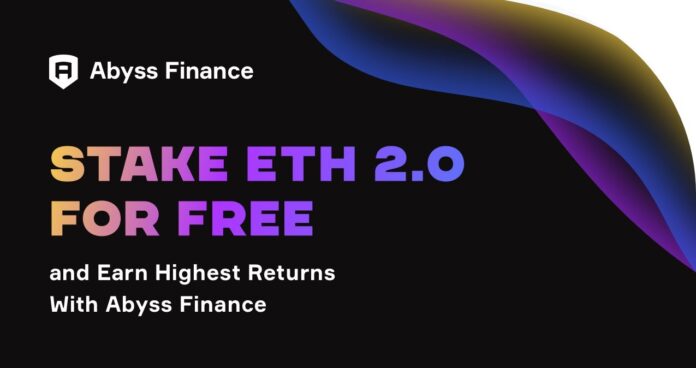 Abyss. Finance is an innovative platform that builds decentralized (DeFi) and Centralized (CeFi) finance solutions for users in multiple sectors.
The project's ABYSS ERC20 native token is utilized in the ecosystem that currently consists of a gaming platform and staking service where DeFi users can set up validator nodes.
Users can tap into the project's diverse and innovative blockchain financial solutions, including the Abyss Eth2 Depositor. This convenient tool is designed to facilitate multiple deposits to the Eth2 Deposit Contract in one batch. The ETH2 Depositor recently added support for direct connection to the Ledger and Trezor hardware wallets. 
The Abyss finance project is proud to introduce the Ethereum community to a unique opportunity to lock DeFi tokens and enjoy free unlimited ETH 2.0 hosting for their validator nodes.
More on the ETH2 Hosting Service
Scheduled to roll out on April 13, 2021, the new service enables DeFi token holders to host any number of Ethereum 2.0 validator nodes for free.
To get started, users must lock the ABYSS token with an unbonding period of 1, 3, or 6 months. Crypto owners will soon be able to add other tokens to the list, making them available for holding to the Abyss Finance community. Other tokens such as LINK, UNI, and SUSHI will be added later through the voting process.
The most exciting benefit of the free, community-driven hosting service includes anonymous registration via your ETH wallet (no email required). Token holders always own their validator keys and are free to host their nodes somewhere else at any time, something that cannot be said about some other popular hosting services. 
The free hosting service also allows users to get hosting services for any other coin besides ETH 2.0 under the same hosting conditions. Investors who tap into this hosting service won't ever have to pay for their ETH 2.0 validator nodes again; it is up to each user to decide how many nodes they wish to host and for how long.
What's more, the blockchain project guarantees maximum staking rewards and insurance against slashing for all token holders. It is worth noting that at this time, the full insurance offered is for the ABYSS token holders only; this exclusive service increases the requirements for tokens by five times.
To set your DeFi tokens to work and earn high returns, visit abyss.finance to learn more.
Tap into the Winning Performance of Allnodes
Abyss Finance will offer investors the highest overall earnings for ETH 2.0 Validator nodes by hosting nodes on Allnodes, a non-custodial hosting and staking service.
The Allnodes platform will enable Abyss Finance users to host ETH 2.0 validator nodes as well as stake their DeFi tokens in an easy and convenient way. Stakers can also use Allnodes tools to monitor their rewards at all times.
In the last week, Allnodes offered an average income of 0.05462131 ETH (excluding blocks) to ETH2 validator nodes, eclipsing other hosting services like Huobi, B.Suisse, Kraken to name a few.
The upcoming hosting service by Abyss Finance is an exceptional opportunity for ETH community members to enjoy unlimited staking without ever having to pay a dime. 
Private keys are not stored on the blockchain platform for enhanced security: an application programming interface (API) transmits them to Allnodes.