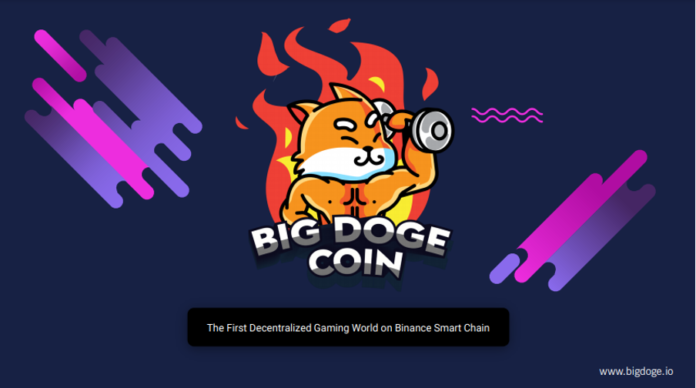 The Upcoming Presale Is Getting Closer And Closer By The Day, And You Won't Want To Miss Out!
The team of Big Doge Coin wants to send a friendly reminder to everyone that their presale is approaching. The event will be held on Tuesday, July 13th, 2021 at 5:00 AM UTC. If you want to join, then wait no more! This is your last chance to be an early supporter and holder of the $BIGDOGE token, one of the most promising projects in the Decentralized Gaming world of Binance Smart Chain.
To get latest updates, join the community at Twitter and Telegram
If you haven't taken the preparatory steps yet, then you'll definitely want to check out all the details below to get started!
Event details
To get a foothold in the presale on 13th or IDO on the 14th, you need to join BIG DOGE's social media platforms that can be found on bigdoge.io
Total supply: 10,000,000,000,000
Hints for the preparation
Please visit the Bigdoge.io website and join the community on Twitter and Telegram to ensure that you are up to speed ahead of the event.
Also, make sure you load your BSC wallet with enough BNB to cover the transaction and gas fees. This is an important step to make sure you don't get tangled up during the event.
About Big Doge
Big Doge focus is to provide the best entertainment possible for our players on blockchain. We place key emphasis on creating games that are of a high quality in every way possible. This means that we ensure that all our games themes are engaging, our features unique and captivating and our art, stunning and precise! 
We don't cut corners and do whatever is necessary to offer a memorable game play experience.
Keep posted with
Website – https://bigdoge.io/
Twitter – https://twitter.com/bigdogecrypto
Telegram – https://t.me/bigdogecoin
Facebook – https://www.facebook.com/bigdogecrypto/
Instagram – https://www.instagram.com/bigdogecoin/
Reddit – https://www.reddit.com/user/bigdogecrypto
Youtube – https://www.youtube.com/channel/UCP6HVzQf3ClG9hgZEPFz7tA