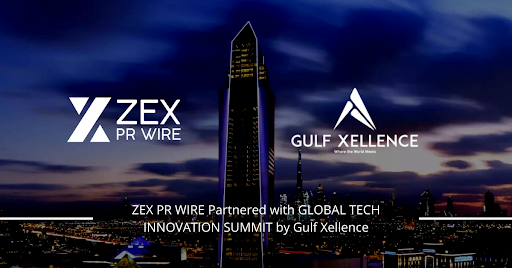 Zex PR Wire is delighted to announce that we are officially partnered with the GLOBAL TECH INNOVATION SUMMIT organized by Gulf Xellence at Sofitel Dubai The Obelisk on 09-10 March 2022. This year at the summit, we'll witness the most powerful tool to enhance your reach world wide with tailored content distribution with ZEX PR WIRE. The Global Tech Innovation Summit is held under the patronage of His Highness Sheikh Mohamed bin Ahmed bin Hamdan Al Nahyan's Private Office.
The summit is a platform where participants will be presented with use-cases from the enterprise world, inspiring speeches, panel discussions, tech talks, and speed pitches related to blockchain, metaverse, crypto, gamefi, NFT and web3.
The summit focuses on the key development opportunities that lie ahead, as well as provide a global gathering place for industry experts and policymakers to discuss industry issues and latest trends. In addition, the key purpose of the summit is to build global awareness about blockchain and other emerging technologies as well as connecting project developers with key stakeholders within the ecosystem.
About ZEX PR WIRE
ZEX PR WIRE is an end-to-end solution to produce, optimize and target content — and then distribute and measure results. Combining the world's largest multi-channel content distribution and optimization network and comprehensive workflow tools and platform, we serve over thousands of clients from offices in America, Europe, Middle East, Africa and Asia-Pacific regions.
Zex PR Wire has catered to over 500+ clients, syndicating over 5000+ press releases to over 500+ premium to global and local news outlets (online). ZEX PR WIRE not only caterers in traditional market but also work closely work (directly or in-directly) with various top blockchain news/media houses such as Cointelegraph, Bitcoin.com, NewsBTC, Coinspeaker, CoinQuora, Etrendy Stock, Newsaffinity, Citytelegraph, TheTechly, NewsAlarms, Techbullion, U.Today…etc
In case you would like to know more about our services please feel free to write to us at [email protected] or visit our website https://zexprwire.com/
About Gulf Xellence
One of the world's leading event management & Business Training companies, Gulf Xellence has built its name by producing high quality B2B events, delivering international trades' expo's across the globe. Gulf Xellence is also a key player when it comes to certified professional training particularly in the Fintech, Blockchain, Crypto , Health, Safety & Environment, Petroleum and Energy sectors. Gulf Xellence was founded by innovative minded entrepreneurs who understand that relationship building, networking and skilled training are keys to business growth and long-lasting success.
Gulf Xellence has been providing business leaders around the world a hybrid platform where businesses can showcase and leverage their competitive values and strengths to the audience globally.
Gulf Xellence Social Links:
Email: [email protected]
Linkedin: https://www.linkedin.com/company/gulfxellence/
Twitter: https://twitter.com/gxellence
Instagram: https://www.instagram.com/gxellence/
ZEX PR Wire Social Links:
Facebook: https://www.facebook.com/zexprwire
Linkedin: https://www.linkedin.com/company/zexprwire/
Twitter: https://twitter.com/zexprwire
Instagram: https://www.instagram.com/zexprwire/
Media and Partnership Contact:
Name: Prerna Arora (Head of Communications & Partnerships)
Email: [email protected]
For Any Other Information