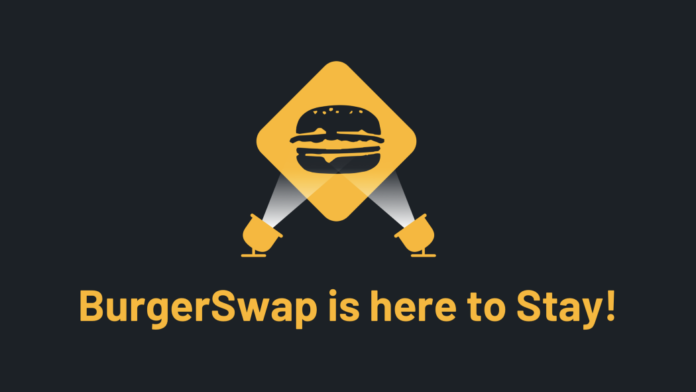 We are extremely thankful to our great community for helping us reach such great attention and volume during the first days after we launched the BurgerSwap platform. And we want to take the opportunity to update you about the current situation of the project and our next steps.
Application for the Binance Smart Chain DeFi Accelerator Fund
We believe that the Binance Smart Chain has the potential to be one of the major PoS ecosystems and we would be glad to grow together with it.
We have been in contact with the Binance Smart Chain team since shortly after launching and feel encouraged to apply for their $100 million DeFi and CeFi Accelerator Fund to support development of our AMM and ecosystem.
We have submitted our application and hope it will be granted, so we can work to reach the next level with support of the Binance Smart Chain community and bring even more users, traders and liquidity to Binance Smart Chain.
UI improvements
Rome wasn't built in one day. And if you have read our articles about the origins of BurgerSwap, you know that our unique technology has been in development for a while, but we have just recently created the UI around it to enable users to trade BEP20 assets in a decentralized and democratic manner.
BurgerSwap is still a raw product, but we are definitely here to stay. We have received lots of positive reactions from the community but also some feedback aimed at the user experience, which we know is not flawless yet but we are working around the clock to improve it.
To speed up the process, we are looking to expand our team with talented UX/UI designers and smart contract engineers who are willing to contribute and add value to our project. Working at BurgerSwap is more than just a paycheck. It's an opportunity to build a successful future with the perks and flexibility of a side gig. We are open for applications, send us a DM in Twitter at: twitter.com/burger_swap
Governance
Our experiment with community governance has been quite successful. Many proposals have been created and executed and around 2 million staked BURGER are pledged per vote.
Again, we are aware the system is not perfect and we are working on improving it. After comprehensive observation of the space and the usage of our governance system, we are realizing that some changes should be made to ensure sustainability of the model.
Some ideas we are playing with at the moment are:
Display APY for staking, voting and providing liquidity

Burning BURGER tokens in the voting process to add more value for token holders and participants in our ecosystem

Ideas around the maximum supply of BURGER to be able to determine the long-term value of the project

Add more DeFi functionalities to the platform to create a complete DeFi experience on Binance Smart Chain
Moreover, as we are a democratized exchange, we highly value input form our community and are open to more ideas which lead to improvement of usability, governance and number of users. Please send your ideas in DM to Twitter at: twitter.com/burger_swap
Links