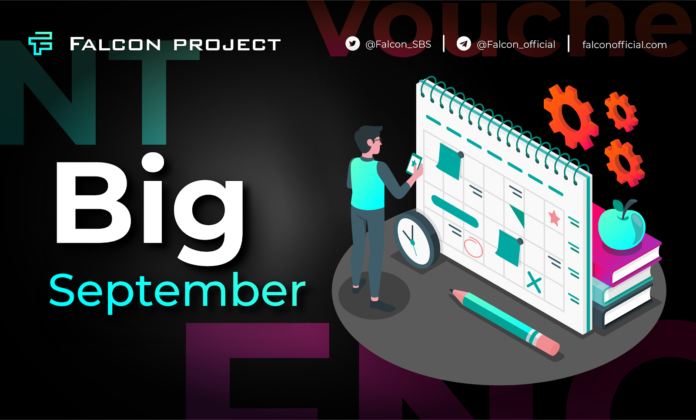 The Falcon project has emerged as a dynamic and innovative DeFi platform that incorporates two interchangeable blockchains to form a robust network. 
The hybrid blockchain model allows users to choose the best blockchain regarding speed, convenience, anonymity, and privacy.   
An official tweet from the Falcon Project on Sep. 5 revealed that work in the Falcon blockchain would be fully completed in Q4, 2020. The exciting development means that users will soon behold the FNC privacy coin in their wallets. 
The Project is also preparing to offer liquidity pools soon on top DeFi platform Uniswap in a move that promises to disrupt  the DeFi sector's dynamics. 
Those who maintain the liquidity of the FNT / ETH pool on Uniswap will receive rewards in the FNT token, the so-called farming, which has already become a trend this year. We also have information on updating the falconofficial.com website to reflect these changes.
What Does the Falcon Project Offer?
The Falcon project, which launched on Feb. 2, 2020, brings a unique approach to decentralized finance with its ERC-20 token-based payment system and anonymous hybrid blockchain. 
The venture seeks to integrate FNT (ERC-20 token), which runs on the Ethereum blockchain, and Falcon Project's coin, FNC.
FNT serves as the Project's official digital asset and allows for speed, simplicity, and convenience while offering a comprehensive bonus system for holders. The token allows for unrestricted listing on exchanges and is thus tradable with other digital coins. 
On the other hand, the FNC coin is designed to uphold privacy and enhance security when making transactions on the blockchain. The coin offers holders features such as choice of anonymous and open transactions, passive pool staking, and convenient wallets. 
Due to its focus on anonymity, FNC coin cannot be listed on exchanges but can be swapped for FNT in the ratio of 1:1 if a holder wishes to trade on platforms such as Falcon's new partner OKEx. 
Falcon aims to fully integrate FNT and FNC into everyday life for transactions or receiving payments conveniently and privately. Users can easily swap FNC for FNT via the swap form found on the website or via the Falcon project's telegram bot.  
About Falcon's Unique Reward System 
Falcon implements a different chain for its rewards system, the ERC-1155, token, referred to as a voucher. The system employs a Proof of Hold (PoH) mechanism where users swap ERC-20(FNT) tokens for ERC-1155 token to earn rewards.  
To participate and earn rewards, users must deposit a minimum of 500 thousand FNT tokens. They then need to swap their FNT for a voucher equal to the amount they wish to freeze and earn lucrative returns. 
With the FNT value going up in recent months, Falcon recently introduced 500,000 FNT vouchers to make the POH rewards more affordable to users. All voucher holders earn dividends of 10% every three months or 40% per year.
In a Sep. 8 tweet, the Falcon team announced that it had set a sales record on the Enjin marketplace by selling a 50M FNT voucher for about $10K. 
The Project now plans to release the first round of payment to voucher holders and start burning tokens from the frozen fund.