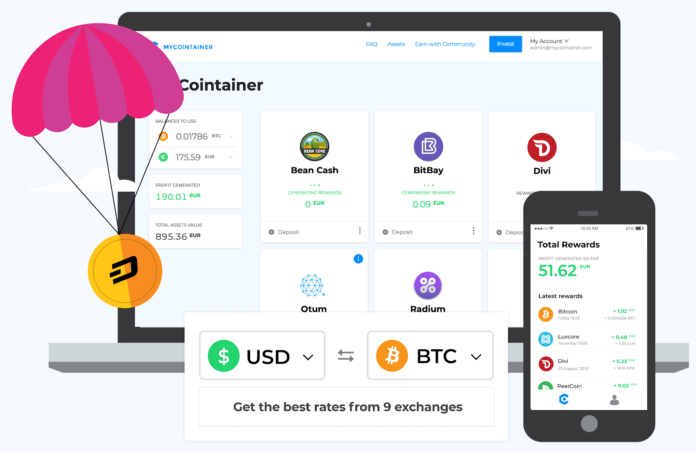 Trading and generating income from cryptocurrencies can be tedious and challenging. Crypto mining has been the main way to release new coins into the crypto world since the introduction of bitcoin in 2009. Unfortunately, mining comes with several significant problems. Among them are the high energy costs, vulnerability to cryptojacking, and centralization of the mining process. Attempts to streamline the processes have proven futile. 
Fortunately, there has been a rise in the use of the Proof of Stake (PoS) protocol in cryptocurrency income generation. PoS coins don't consume a lot of energy or require expensive hardware to generate, making them more profitable than other coins. This rise in interest in the protocol has also led to the rise of staking-as-a-service platforms like MyCointainer.
Mycointainer is making profit generation easier without users needing first hand experience. MyCointainer is the ultimate platform that provides automatic staking and masternode services to crypto traders. 
MyCointainer in a Nutshell
Mycointainer is an automated online staking and masternode platform that generates profit for its users in the form of stakes. The objective of the platform is to assist its users to trade coins and make a profit in the form of stakes. Staking involves collateralizing cryptocurrency, to get a chance in participating in transaction validation and block completion. The investors get staking rewards as a profit for holding their cryptocurrency.
This platform offers excellent products and services and educates people on how to get even more rewards. Currently, MyCointainer offers tens of digital assets, including Tezos, Kava, Cosmos, Tether, Neutrino dollar, bitcoinPos, Horizon, terracredit, Rapids, Energi, Waves.
The platform adds over 40 new assets every week and will soon cover all the crypto assets.
Regulatory Compliance
The company is registered in Estonia by FIU intelligence to crypto exchange and wallet management services. It's licensed under the number FRK000469 & FVR000557, and their address is Tornimae tn 5, 10145.
How Does It Work?
First, individuals need to select a useful asset, purchase, and send it to their MyCointainer staking wallet. MyCointainer uses proof of stake and masternodes to calculate and generate profits.
A masternode is a form of server in the blockchains that can complete unique functions and execute private transactions. Masternodes keep real-time copies of the blockchain. Masternodes focus on staking a given amount of cryptocurrency within the currency's blockchain. The stake acts as collateral to ensure that investors won't try to mislead the system by having a stake in the system.
MyCointainer automatically grants permissions of the shared masternode staking, to all the investors subject to the benefits. All rewards therein depend on the value of the stake. The higher the staking value, the higher the generated reward. What makes this platform unique from others is that every user, even those with limited coins, can benefit from their stakes.
MyCointainer automatically generates rewards with an average reward fee for 59 cryptocurrencies being 1.91%. Even if the value of the stake is low, all investors get a share of the reward. Every reward is subjected to compound interest, so the longer you stake the higher your rewards.
Completing a Deposit or Withdrawal from MyCointainer
Most stalking wallets have a minimum amount of currency to purchase. However, MyCointainer has neither a deposit nor a withdrawal limit. 
To deposit fiat on the platform, you need to choose the currency from the wallet then deposit. The process of withdrawing is akin to deposit; only you choose the withdrawal option. Completion of all withdrawals takes just 24 hours. 
Some of the fiats supported include Pound Sterling (GBP), Polish Zloty (PLN), Swiss franc (NOK –CHF), American Dollar (USD), Euro (EUR), and Norwegian Krone
MyCointainer Power Subscription Plan
MyCointainer platform offers different subscription plans through MyCointainer Power. The basic subscription plan is free. However, it gives partial benefits to the plan. MyCointainer also provides other plans that offer more service to users.
The platform gives the power plus option. This option has shared masternode access to all assets and completely covers the costs of running nodes. The monthly subscription to the power plus choice is 3.90 euros.
The power max option provides a 0% staking fee on all assets. Moreover, it offers VIP giveaways to its users. The average price for the power max option is 13.99 EUR. 
The power percent option comes with a vast range of services and benefits, including all those in power max. This option's price is 39.90 EUR per month.
Benefits of MyCointainer.com
Rewards aside, MyCointainer platform brings a wide range of services and advantages for users compared to other staking platforms.
Convenience- The application is accessible both from the google play store and the AppStore.

User friendly- Allows easy access to the dashboard  and the processes of depositing and withdrawing are straightforward.

Users have unrestricted access to MyCointainer; thus, they can easily invest.

The platform comes with added safety for users' assets. That's owing to the registration of the company to a regulating authority. Moreover, the platform uses

multiple-factor authentication

techniques to prove ownership.

Diversity- Users can choose from a wide range of crypto assets and stake all major PoS coins using the platform.

The support team is always online to assist anyone who encounters problems staking.

State of the art technologies and data encryptions bolster the privacy and security of all details. Moreover, the platform does not sell any private information to unwarranted persons.
The Future
MyCointainer's future power plan will foster faster crypto adoption globally. They plan to achieve that by giving everyone equal benefits from rewards that come from various digital assets. MyCointainer is working to better the service provision. The platform plans to introduce better services in the coming years and to feature even more crypto assets.
MyCointainer will offer great value to customers, product design education, and excellence. It's planning a future of partnering with new platforms, teams, exchanges, and entrepreneurs to complete its future projects.
Endnote
Numerous crypto traders have held on to the idea that profit-making is merely through buying low and selling high. However, the platform has proved that there are innovative ways to make profits once you join the crypto market. MyCointainer provides users with an excellent network to maximize profits. It is by far the most reliable platform for crypto staking. 
Users with the least number of coins can still enjoy the benefits of convenience and diversity. Even better is the subscription plan, which gives one primary option and two power options. All this bolsters the service delivery to investors.
Even with low stakes, users can still share in the rewards. To increase their returns, however, investors are supposed to put an even higher stake. MyCointainer is working towards faster crypto adoption, all thanks to its rewards. It's by far the best staking platform for maximized rewards.