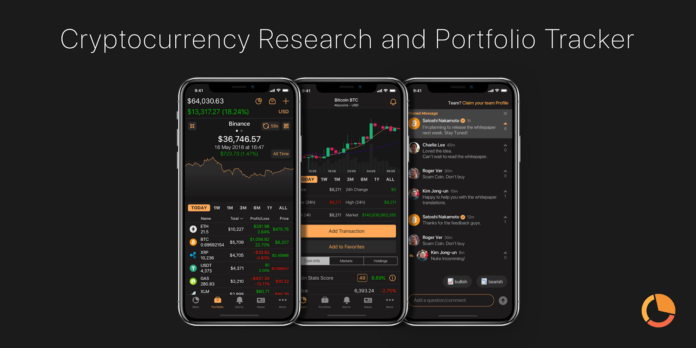 CoinStats is a real-time crypto tracker  that seeks to simplify the entire investment sector through the integration of advanced monitoring technologies and a friendly user interface. This unique app provides users with a one-stop-shop for all everything crypto. Specifically, users can manage and trade digital assets directly from the Dapps intuitive portal.
What Problems Does CoinStats Fix?
Let's face it, investing in cryptocurrency is a time-consuming process that requires you to learn and apply new knowledge constantly. While some people possess the mental aptitude to handle these tasks off the rip, most people need a few go-arounds before even the terminology of the sector sets in.
In this way, investing in cryptocurrencies can get to be a bit overwhelming for your average user. The entire process of monitoring different developments across different platforms is extremely tedious. Additionally, these issues only get worse when you begin to incorporate multiple platforms and exchanges. CoinStats simplifies these problems.
Trackability Issues
CoinStats integrates a proprietary cryptocurrency tracking tool that allows you to monitor your assets with ease. These advanced monitoring protocols allow users to receive real-time pricing for over 8,000 digital assets. Even more impressive, the platform can gather this information from 250 crypto exchanges.
From here, you can easily set up alerts for market movements that you want to be made aware of. The app possesses unmatched flexibility in this sector. For example, you can set alerts for price movements (pumps/dumps), news, project updates, and other relevant indicators. You're never out of the loop with CoinStats. 
Data overload
Another major issue facing investors in the blockchain sector is data overload. There is just so much going on. Whenever you have an emerging industry coupled with new technologies, the outpouring of developments is almost impossible to track. 
Luckily, CoinStats streamlines this process for you in an interesting way. The Dapps interface is fully customizable and provides you with all the relevant details you need to make the most informed investment decisions possible. In this fast-paced market, these tools play an integral part in any investor's strategy.
Disorganization
Along with so much data, there comes the problem of how to store and access all this new information. It does you no good when there exists a platform tailored to suit your needs, yet you are unaware of its existence or how to access it.
CoinStats allows you to keep your data organized. You can set what information you desire to see in the news tab. This customizable feature provides you with the ability to decide if you want items such as the latest news, bullish news, bearish news, or news on specific projects.
As with most tech-related industries, the news plays a major role in the direction of the market. Staying up-to-date on all the latest regulatory developments in the sector is a great way to guide your investments to success. For example, if the news reads that the EU or the US recognizes Bitcoin as a legal tender, you can expect prices to skyrocket. Don't miss the boat with CoinStats.
How CoinStats Works
CoinStats integrates a variety of proprietary technologies to create a fully immersible cryptocurrency experience. Primarily, the platform simplifies the entire process via its easy-to use-interface. This portal allows investors to keep track of all crypto prices, project developments, and news at a glance. 
Signup is easy. You just go to your Google or Apple store and download the Dapp. Once it's downloaded, you can complete registration in minutes. Linking your exchanges and wallets to CoinStats is easy also. However, you will need to create a view and trade-only API to take advantage of the most advanced features of this platform.
Integration
Integration is another powerful aspect of CoinStats. Yes, you can track your portfolio manually, but who wants to do that. Instead, link your crypto exchange accounts via API. CoinStats is incredibly flexible in this way. Specifically, the platform supports Binance, Binance US, Bitfinex, Bitmex, Bitso, Bitstamp, Bittrex, Bitmax, CEX.io, Coinbase, Coinbase Pro, Deribit, Gemini, IDEX, HitBTC, Huobi, Kraken, KuCoin, Liquid, OKEX, and Poloniex. 
Wallets
CoinStats also provides users the ability to sync wallets on Ethereum, Ethereum Classic, Bitcoin, Bitcoin Cash, Binance Chain, Litecoin, XRP, Siacoin, NEO, Dash, DeepOnion, Cardano, Tron, IOST, EOS, WAVES, and TEZOS. This feature is just one more way that COinStats empowers investors and frees up your time.
Where to Get CoinStats
CoinStats is available for download at both the Google Play Store and Apple Store.  The program has high ratings on both platforms. On Google, the Dapp has a 4.7 rating with 5000 reviews. The Apple Store shows a 5.0 rating with over 40,000 reviews.
Free vs. Paid Subscription
You have two options when you download CoinStats – Free and Pro version. Both versions of this software are filled with features that are sure to simplify your life. However, for the $40/per year price tag, the Pro version of the software delivers above and beyond what you would expect. The company also offers a lifetime membership for 0.02 BTC.
Premium features 
If you are the type of investor that wants access to the best tools in the market, then CoinStats Pro is the right choice for you. As a Pro member you get:
Detailed Portfolio Analytics

CoinStats Score

Portfolio Export

Coin insights

Open Fill Notifications 

Customer Support

Auto on New Listings

Pump and Dump Alerts 
CoinStats Here to Save the Day
It's good to see platforms like CoinStats take the time to focus on what investors really need. This Dapp integrates a combination of features that makes it one of the most helpful platforms in the market. You can expect CoinStats to continue to garner attention as more investors become aware of this revolutionary platform.