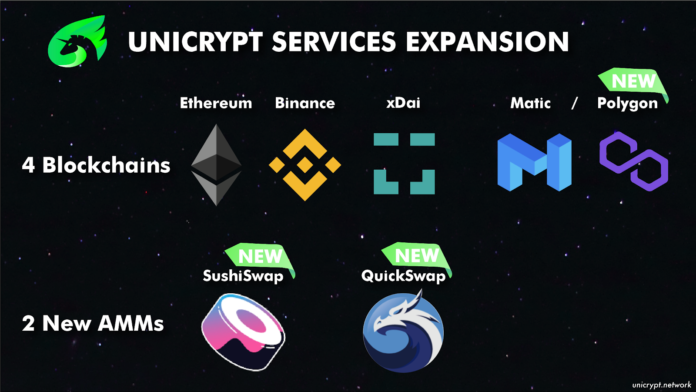 The Unicrypt Network ILO platform is actively contributing to bring DeFi to the next level. Each ILO (presale) must lock between 30–100% of the raised currency as counter liquidity to the sale token.
This measure instills confidence in DeFi by guarding liquidity providers against rug pulls, where a project's team can withdraw all liquidity from the AMM (e.g Uniswap) without informing investors.
The new Launchpad is making a reputation for itself as the cross-chain 'Uniswap for presales' – any DeFi startup can host its token sale on the platform in a similar manner to how any token is free to list on Uniswap. An additional human layer of audits and KYC is available on their ILO platform. This allows auditors and whitelisted KYC partners to comment and update the status of each ILO taking place.
Unicrypt's presale platform benefits new projects by allowing them to lock liquidity while avoiding problems like lack of funding, promotions, support, and much more as they are willing to help in the incubation of new stellar projects.  
This launchpad is designed to offer DeFi projects an alternative to platforms like PolkaStarter or TrustSwap pads that impose stringent requirements for applications.  
Recent ILOs hosted on Unicrypt
The Unicrypt network platform is proud to announce the successful completion of the Graphlinq presale, which sold out in 20 seconds on the Unicrypt initial liquidity offering (ILO) platform. 
During the public sale held on March 21, participants received the project's native ERC20 token, GLQ; they can now use the token to execute diverse processes over the blockchain to trigger events, automate tasks and more. 
Unicrypt has now cemented its partnership with the Graph Linq protocol and will soon introduce enhancements to its lockers tracking, ILOs and data analytics tools.
Unicrypt's fully decentralized and automated presale platform also recently hosted the Panda Dao public sale on Binance Smart Chain (BSC) on Friday, March 5, 17:00 UTC.
Latest Developments on the Unicrypt Protocol
Unicrypt has made big strides in transforming into a multi-chain presale & liquidity Dapp platform. The protocol is currently live on ETH, BSC and xDai blockchains and has recently deployed its liquidity lockers and ILO platform on PancakeSwap and SushiSwap (6 AMMs in total !).
Moreover, UniCrypt's decentralized Launchpad and Liquidity Locking platform now supports the Polygon blockchain, allowing users to enjoy safe, fast and easy token services directly on QuickswapDEX and Polygon's high-speed, low-cost infrastructure. 
The amount of liquidity locked across all Unicrypt Automated Market Makers (AMMs) currently stands at $175.8 million.
The adoption of the UniCrypt native tokens (UNCX and UNCL) is also accelerating. UNCX has just been listed on the Hoo exchange on March 22nd.
Establishing Investor Trust in DeFi Projects
To preserve the credibility of its Launchpad and other products, the Unicrypt team completed its audits with Chainsulting (Auditors of 1Inch, Shopping.io…).  
Unicrypt launchpad also offers links and tokenomics for each project, ensuring that investors are fully informed on any startup they wish to invest in. Users can also access discussion areas, websites and social media of each project.
However, the Launchpad is also fully decentralized, meaning that any project can host its presale on the platform. Therefore, there are certain risks associated with decentralized presales that every investor should know about.
Firstly, users should know that token contracts that come with minting functionalities allow the developers to mint as many tokens as they may like, which they can dump on the market. Unicrypt recommends projects willing to launch to fully audit their code, and therefore disclaimers can be found on their UI.
Secondly, investors should research whether a particular token is issued via a proxy, as the developers can adjust the contract in future. Risks associated with such projects include the possibility of dev teams minting additional tokens or freezing token transfers.
Perhaps the highest risk with decentralized token sales is developers abandoning a project after the presale. All investors are advised to conduct thorough research on every project before participating in an initial liquidity offering (ILO).