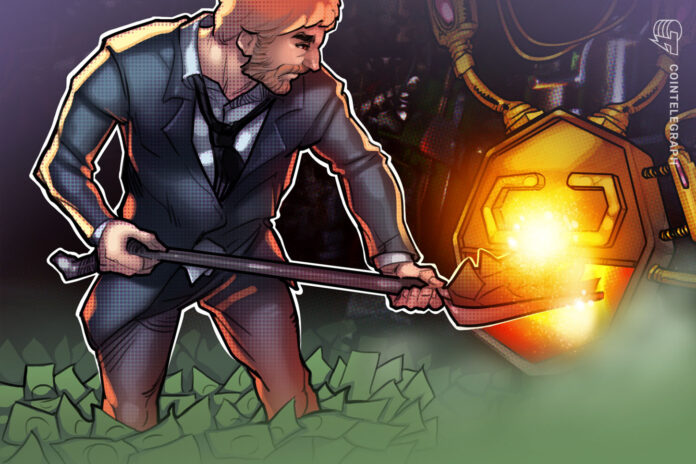 [ad_1]
Tether (USDT) makes a $10 million equity investment in the crypto lending platform Celsius Network (CEL) at a $120 million pre-money valuation, bringing the post-money valuation to $150 million. 
The company has raised $30 million in its first equity round. In 2018, Celsius completed a $50 million ICO. Celsius CEO Alex Mashinsky told Cointelgraph that his company has continued its policy of not fundraising from venture capital. 
Investors will have no say
Mashinsky also pointed out that the equity sold in this round does not come with voting rights. This ensures that the investors will not be able to force the company to change its core mission of sharing 80% of the profits with the community. He believes this is what sets Celsius apart from the competition:
"I think they [BlockFi] raised something like $20 million, at $30 pre[-money valuation]. So they gave more than half. Now they raise another $30 [million] at $60 [million pre-money valuation]. So basically the founders own a very small percentage of the company, maybe 10% or less. And here we intentionally did not give any of the investors voting. So I'm still the largest shareholder and then we have control of the company. Very important for us so the investors are not going to change — we give 80% back to the community. So I wanted to make sure that no one comes in and says 'Hey, you're making a profit so why don't take it yourself or why don't pay the dividends?'"
Tether is not a toxic investor
Mashinsky does not think that Tether is a toxic investor. In his opinion, the market is the best judge and since all the lawsuits had been filed against the company, USDT's market capitalization has increased ninefold:
"If you look at what was the tokenization when the lawsuits were filed and what it is now, it increased by nine fold, it was $1 billion, now it is $9 billion. If there was any concern of not trusting Tether, investors would not be [investing]."
Better than competition
The Celsius CEO also says that Tether, being such a dominant player, picking his company for strategic investment over their competition is an important endorsement:
"The big thing is that Tether is nine billion dollars in tokenized dollar value. It's 90% of all the stablecoins out there. The fact that they chose Celsius is very important, because obviously they could have worked with anyone, they could have picked BlockFi or Nexo, or anybody."
As to the question of why Celsius is fundraising just two years after the successful ICO, he explained that the injection of additional capital is needed if the company is to achieve its ambitious goals:
"First you raise money when you can, not when you need it. And it was important that we have several other strategic investors that are coming in. Tether is not the only one, we have several partnerships. We want to see several billion dollars in assets, we want to have a billion gold, several billion Bitcoin. These things require a lot of capital to grow the platform."
Mashinsky also hinted that in the coming months, Celsius will be "marrying together all the services that Tether and Bitfinex offer".
Cointelegraph reached out to Tether for comment, but has not received a response in time for publication.
[ad_2]