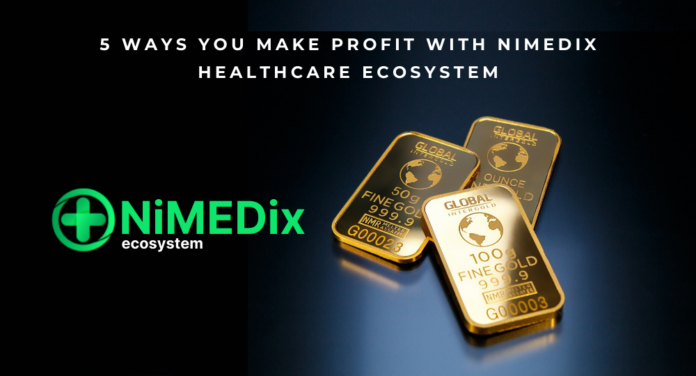 One of the frequently asked questions about investment especially in the healthcare ecosystem is; 'how do I make a profit?' It is even more sought after than; 'how do I invest?' This is because of the predominant self-interest of the human mind. Another reason would be because the expected goal of every investment is profit. Even non-profit organizations make profit but, in forms other than money. 
The NiMEDix healthcare ecosystem is a living project by design. This means that it can continuously evolve for the better. The ecosystem was built on Blockchain (Burstchain) technology, Artificial Intelligence (AI), and Robotic Process Automation (RPA) making it one of the most efficient, safest, and definitely the most intelligent healthcare ecosystem available. It is indeed the only one of its kind in Africa. 
NiMEDix ecosystem will operate on its digital currency purchasable with fiat currency on Bitfxt after its forthcoming public release or Initial Exchange Offering (IEO). This currency will be used to access the ecosystem and all the services and opportunities it offers. 
But, just having a digital currency or crypto coin does not fully explain the profitability of the NiMEDix healthcare ecosystem. Here are the five (5) ways you make profit with the NiMEDix healthcare ecosystem. 
Self-sovereign identity, shared data, and health records

This simply refers to the advantage NiMEDix offers to the public in the areas of: 
Self-sovereign identity – As an advantage of the blockchain technology on which the NiMEDix ecosystem was built, every individual on the NiMEDix platform operates on a unique identity system with the authority to release or withhold their health records. These data could even be exchanged for profit in cases of health research. 

Shared data – The problem of interoperability within the healthcare industry can no longer be overlooked now that technology such as blockchain which makes the dream of interoperability and data sharing a reality. Health facilities and organizations within the NiMEDix ecosystem get the benefits of data sharing for mutual growth within the healthcare ecosystem to better improve healthcare response and research. 

Health records – The uniqueness of the NiMEDix blockchain ecosystem makes it possible for healthcare facilities to store health records that are immutable and easily accessible compared to the way health facilities currently operate thereby reducing cost and increasing efficiency. This advantage leads us to the next point. 
Rapid response registry for medical professionals

According to

NPR

, a study estimates that 5 million people die every year because of poor-quality health care in low and middle-income countries. That's significantly more than the 3.6 million people in those countries who die from not having access to care. Africa's healthcare system suffers from delays in 
gathering health records which are meant to help healthcare professionals make the best decisions for patients during a health crisis. 
Wrong decisions influenced by late health data delivery have led to further complications that are fatal in some cases. Partner health facilities and professionals with the NiMEDix ecosystem get to operate with the advantage of rapid and accurate health, stock, and even staff record registry. These advancements attract more patronage which results in more profit for you as a NiMEDix investor. 
Just-in-time supply chain solutions

As we already mentioned earlier, a poor supply chain is a disaster for Africa's healthcare ecosystem. Thinking Life Cycle; a bad supply chain greatly damages the entire system. The supply chain in this context ranges from home delivery of medical supplies, ambulance services, online professional healthcare consultations, etc. 
With the NiMEDix ecosystem and its digital currency (NIM coin) which serves as a direct means of investment in healthcare, healthcare facilities are provided with equipment, logistics, and means to tackle supply chain issues with blockchain and artificial intelligence technology as the backbone for these operations. Who wouldn't like to cut trips to hospitals and pharmacies yet get better health treatment? Better supply chain. Greater efficiency. More local patronage with a rippling effect for profit maximization for NiMEDix investors 
Incentive models that reward responsible behavior

One very good thing about the NiMEDix blockchain ecosystem is that it rewards good behavior with NIM coins or should I say more profit. Good behaviors include carrying out healthcare transactions on the ecosystem, not trying to tamper with your records, etc. This reward system encourages more people to be cautious of their health thereby making the ecosystem more profitable and improving the health of the population.

Wouldn't you like to get paid for staying healthy? 

Sustaining the economy

This is quite simple. With the four benefits of the NiMEDix ecosystem already discussed, it is clear that the NiMEDix ecosystem not only creates jobs but will also make it simpler for healthcare professionals to serve, and healthcare easier to access. 
A better healthcare industry means more internal revenue and a healthier population. A healthy population creates a reliable workforce. A reliable workforce sustains the economy. Nigeria may be the first African nation to adopt the NiMEDix solution. Nigeria is the largest market in Africa and this means that there are great profit possibilities for every NiMEDix investor. 
"As these gradually occur, the NIM coin becomes more valuable and all investors in the coin become more profitable." The profit potential of the NiMEDix ecosystem appears to be immeasurable but the least initial investment is $0.10. 
Becoming an Investor – How to Invest It is impossible to maximize profit from a system without being a part of such a system. To get the most from the NiMEDix ecosystem you will have to invest in the ecosystem. 
How do I invest? To become an investor and profit from the NiMEDix healthcare ecosystem all you need do is to get one or more NIM coins. 

How do I get NIM coins? 
Log in or sign up with

www.bitfxt.com 

Fund your Bitfxt wallet with your credit/debit card or with cryptocurrency. 

Purchase NIM coins after coin launch. 
The NIM coin will be available for purchase on the 12th July 2020 at an initial cost of $0.10 (IEO). Now that you know about the profitability of the NiMEDix ecosystem and how to invest in it, it is best to get your Bitfxt wallet funded and ready before the coin is made available for purchase; "The early bird gets the worm." 
Words of the CEO and Co-founder We at NiMEDix from years of experience both as users of the healthcare system (patient) and professionals from diverse industries understand the unique situation of the state of healthcare across the country and Africa, thus creating a solution that is not just Cloud based but directly engages hospitals, laboratories and pharmaceutical companies. This makes NiMEDix quite ambitious and positioned to succeed as truly, EVERYONE is a part of the solution.