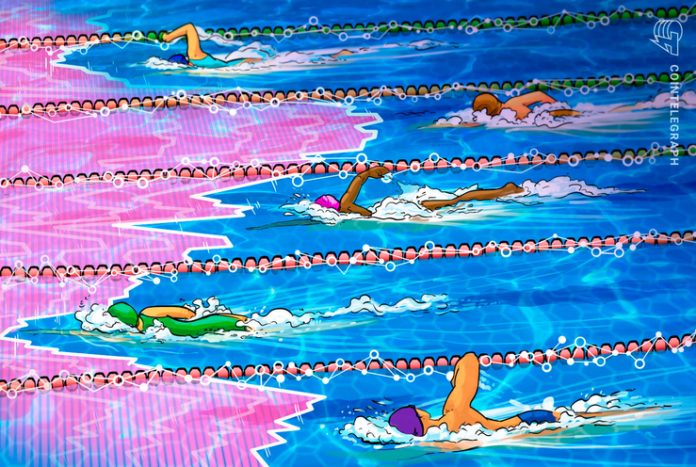 [ad_1]

Thursday, Dec. 5 — cryptocurrency markets have continued to trade sideways, with 18 of the top 20 coins by market cap seeing notable losses at press time.
After Bitcoin (BTC) attempted another recovery yesterday to break above $7,500, the biggest cryptocurrency has dipped below the $7,200 threshold again today.
Among the few coins that report some green at the time of this writing, Unus Sed Leo (LEO) is seeing the biggest growth, up 0.4%. In contrast, Algorand (ALGO), is seeing the biggest losses among the top 20, down more than 6% according to data from Coin360.
Market visualization. Source: Coin360
After failing to hold the $7,500 support yesterday, Bitcoin saw a sharp drop below the $7,200 price point earlier on the day before another recovery attempt. At press time, Bitcoin is trading at $7,383, down 1.4% over the past 24 hours, with an intraday low of $7,179, according to Coin360.
Bitcoin's price dynamics look worse over the past week as the cryptocurrency lost 2.7% over a seven day period to date. Over a 30-day perspective, the trend is even worse, as Bitcoin has slipped more than 20% from around $9,346 on Nov. 5.
Bitcoin's recent price fluctuations came amidst a transaction that moved nearly $9 million in BTC in a single hour yesterday.
According to gold bug and famous crypto skeptic Peter Schiff, the recent movements in Bitcoin's price show that Bitcoin cannot attract any new buyers and the game is over. He tweeted on Dec. 4:
"Bitcoin pump & dumpers are losing their mojo. They managed to pump the price by $550 in one minute, a 7.5% spike. Yet the dump reversed the entire pump with an 8% drop in just 7.5 hours. If #Bitcoin pumpers can no longer sucker in new buyers the game is over. Look out below!"
Meanwhile, Bloomberg analysts have recently predicted that Bitcoin will see $6,500 as good support and $10,000 as initial resistance in 2020. The experts added that most of their indicators demonstrate that dipping below $6,500 is unlikely.
Bitcoin 24-hour price chart. Source: Coin360
Ether (ETH), the second-largest cryptocurrency by market cap and the top altcoin, is down by .01% to trade at $149 at the time of publication.
Ether seven-day price chart. Source: Coin360
XRP, the third top cryptocurrency by market cap, slipped by 0.1%, trading at $0.219.
Ripple seven-day price chart. Source: Coin360
Total market capitalization of all cryptos amounts to $200 billion at press time.
Keep track of top crypto markets in real time here


[ad_2]