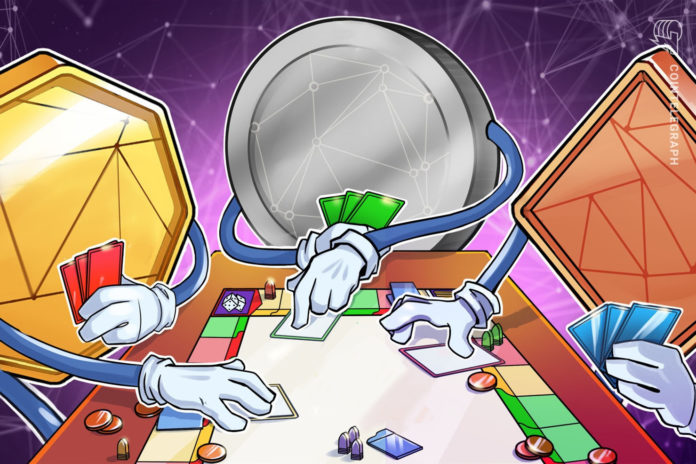 [ad_1]

A new digital trading card series on the WAX blockchain — Blockchain Heroes — will feature 50 unique superheroes inspired by top influencers, inventors and content creators throughout the blockchain community.
The series, developed by co-hosts of The Bad Crypto Podcast, Joel Comm and Travis Wright, is a comedic parody of crypto-world personalities presented as superheroes.
The card designs, hero names and personalities featured will be revealed closer to the launch date, leaving us all to speculate on the real life identities of the few names that have been dropped so far, including 'Lady Lightning', 'Captain Currency', and 'Data Avenger'.
Wyldwrangler, The Prophet and Litespeed from Blockchain Heroes. Source: BCHeroes
Comm and Wright have been "dabbling with non-fungible tokens for [their] podcast listeners for several months," said Comm. In May 2020, they watched trading card company Topps release the Garbage Pail Kids trading cards in digital format on the WAX blockchain. The cards sold out in less than 28 hours, with collectors seeing up to 25x returns in a secondary market. 
This was instrumental in the decision to launch their product on WAX:
"When we saw what Topps and WAX were able to create together, we discovered the ideal conduit to release a new product which we believe will be embraced by the blockchain community. These cards are going to be fun to collect and trade!"
The project is funded by a WAX Labs grant and will launch on the WAX blockchain on August 4, 2020. Selected amid a multitude of proposals, WAX Director of BD Evan Vandenberg explained that combining the NFT concept with a crypto theme stood out to him:
"Joel and Travis have put together some incredibly creative collecting concepts and art work. Combine that with crypto-centric themes and characters and I think you have an incredibly interesting project for the space."
The card set will feature the superheroes ranging in rarity from common to mythical and stored on the blockchain in the form of non-fungible Tokens (NFTs) setting them apart from traditional collectible trading cards. Each card will be assigned a unique minting identification number, providing transparent sales and trading history, immutable ownership records, and provable scarcity.
Name reveal
Litespeed is card no. 1. Source: CoinTelegraph
In their live Podcast on June 11, Comm & Wright shared Litespeed as card number 1 likening him to the Flash. Another character is The Prophet, who is holding up a Bitcoin Cash tablet with a broken Bitcoin tablet on the ground. (Who does that remind you of?)
NBA, Italian soccer & Garbage Pail Kids
NFTs have been seeing widespread adoption in a variety of platforms with the team behind CryptoKitties partnered with the NBA to produce collectible tokens using NBA branding and player photos.
Italian soccer team Juventus offers collectible cards featuring players like Cristiano Ronaldo on the Ethereum blockchain.
[ad_2]