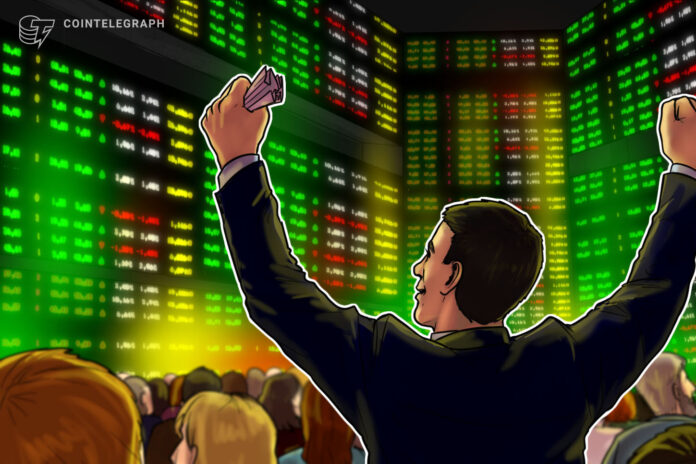 [ad_1]

According to Kraken crypto exchange CEO Jesse Powell, there has been a massive influx of new accounts from all types of investors. The trend coincides with Bitcoin's (BTC) strong recovery from $3,600 to over $9,000.
Powell's statement aligns with similar observations made by Coinbase earlier this year when the exchange also saw a surge in demand when Bitcoin price dropped to $3,596 on March 12.
Coinbase observed increased demand in March. Source: Coinbase Blog
Data shows the demand from both retail and institutional investors has increased continuously since mid-March and sentiment among Bitcoin investors has improved.
What does the influx of new investors mean?
Speaking to Bloomberg, Powell said:
"We have seen a massive influx of new accounts from hedge funds, wealth managers, retail investors and day traders. We have seen people taking their stimulus checks and rolling them into Bitcoin."
Similarly, the U.S. stock market saw a noticeable spike in trading activity among retail traders on platforms such as Robinhood and Charles Schwab.
Since the start of 2020 the inflow of capital from institutional investors into Bitcoin increased rapidly, primarily through Grayscale's Bitcoin Trust security. Based on the surge in appetite for BTC from institutions, Powell emphasized that investors are looking for a safe haven asset amid uncertainty in the global financial market.
BTC-USD volume remains high at Kraken. Source: Cryptowat.ch
Paul Tudor Jones, the billionaire hedge fund manager and founder of Tudor Investment Corporation, famously said he invested in Bitcoin as a hedge against inflation. Since then, the perception of Bitcoin as a store of value and a potential safe haven asset over the long run has improved. Powell added:
"Everyone is signing up for it [Bitcoin]. I think we all know a lot of people have a lot of free time at home these days. People are taking stimulus checks and rolling it into Bitcoin or the stock market so there has been a massive new number of sign ups, I think people are very worried about the traditional markets, and what's happening with the U.S. dollar and they're looking for a safe haven asset."
Will demand lead to higher prices?
Market trends from exchanges and investment firms across the U.S. generally indicate that investors are steadily accumulating Bitcoin even more so after the May 11 block reward halving.
A confluence of fundamental factors such as the tendency of Bitcoin to see an extended rally after a halving, consistent increases in demand from institutions, and growth in trading activity on major Bitcoin exchanges all raise the likelihood of a multi-year uptrend as seen in previous price cycles.


[ad_2]