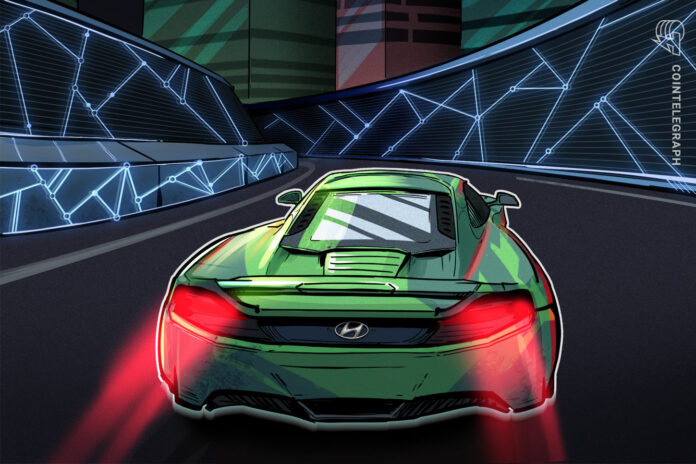 [ad_1]
Hyundai is reportedly looking to launch a blockchain ecosystem through its Europe-based subsidiary, Hdac, and IT arm, Hyundai BS&C, after registering three business trademarks with the Korea Intellectual Property Office.
According to Chosun, a local media outlet, Hyundai BS&C's CEO Chung Dae-sun applied to the intellectual property authorities for the brand names Altum, Atolo, and Rizon. Each application has the description "electronic wallets that can hold cryptocurrencies."
Crypto trading services and ATMs coming soon?
Hyundai has yet to reveal more details about the conglomerate's intentions within the blockchain space. 
The data from the recent trademark filing indicates that the company may aim to provide services like crypto trading, crypto ATMs, crypto-related hardware, software, crypto issuance, and sales.
Initial reporting claims that these services could contain basic functions required for a Proof-of-Stake, or PoS, ecosystem, like Dapp, storage, and transmission.
Blockchain firm partnered with Hyundai's blockchain arm
At the same time, CertiK, a blockchain auditing firm, signed a partnership with Hdac, after completing an audit on Hdac mainnet's design, known as "Friday."
Connie Ngo, marketing manager at CertiK's, said:
"Because of their [Hdac's] future plans, we decided it would make sense to formally partner with one another as a public promise of Hdac's focus on security and a symbol of CertiK's ability to support larger enterprise-level solutions such as Hdac's."
The South Korean car manufacturing giant has been taking steps to strengthen blockchain adoption across its business line since 2019.
Hdac announced a $10 million blockchain investment fund in October 2019. The funds will help to launch the project's mainnet, develop decentralized applications, support new industry startups, and create an ecosystem with a "cryptocurrency compensation system."
[ad_2]