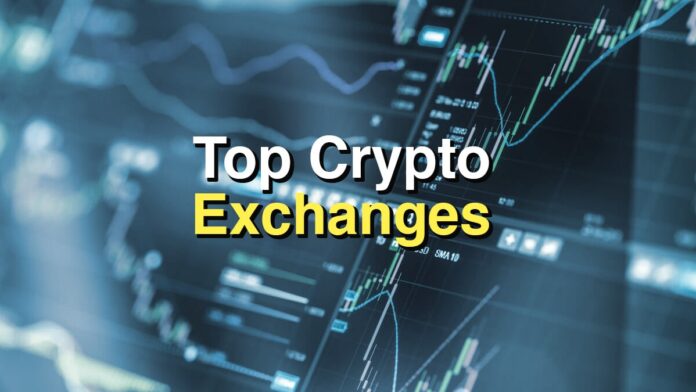 According to data from coinmarketcap.com, there are over 4,900 cryptocurrencies in existence today. They operate in over 20,000 markets, with over 300 registered cryptocurrency exchanges.
With so many platforms available where you can buy and sell digital coins, it's easy to get stuck when choosing the best exchange to begin your cryptocurrency journey.
In this piece, I have tried to compile a list of the top 50 exchanges in 2020 based on actual trading volumes, accessibility in different geographical locations, liquidity, market quality, and team/management behind the platform.
Without much ado, let's get started.
Launched in July 2017, Binance is a best bitcoin exchange based in Malta. The platform has led the rest due to an excellent team behind the exchange, robust security, and support for many cryptocurrencies, stable coins, and tokens. The exchange is one of the few that never inflate its trading volume and is very open when it comes to its operations. The platform is active in 592 markets with a trading volume of $821 million over the past 24 hours.
On September 2019, the exchange launched futures trading. Binance features a lending program dubbed "Binance Lending Products," which allows users to lock certain assets for a given period, and they can receive interest on the locked assets.
Coinbase is one of the oldest crypto exchanges, having launched operations in May 2014. However, over the years, the platform has built a solid reputation within the crypto market, which has been aided by a strong team, excellent security, and excellent services. The exchange is active in 54 markets with a trading volume of $141 million over the past 24 hours.
Coinbase operates under two different brands; Coinbase and GDAX. Coinbase focuses on retail consumers that want to buy BTC using fiat currencies, whereas GDAX is its more advanced trading platform.
Also Read: Experts Comparison Review Binance vs Coinbase at Bitcoin tester
3. Coinsbit
Coinsbit is one of the world's largest crypto exchanges. Launched in August 2018 they achieved, through their multi-level referral program, second place in terms of number of visits and third place in terms of registrations (1.3 million). The exchange`s throughput is 10k transactions per second, users are supported in 12 languages  24/7. Their service has been integrated with 200k POS-terminals in Korea, Vietnam, China, and India. 95% of user funds are stored in cold wallets.
On December 4th, 2019, the exchange reported that it had successfully passed an independent examination made by European specialized agency, as a result of which Coinsbit was assigned a high level of security.
4. Bittrex
Launched in February 2014, Bittrex is a crypto exchange based in the USA. The exchange supports cryptocurrencies, stable coins, tokens, and fiat. The platform considers itself a global leader when it comes to the blockchain revolution. It's active in 319 markets with a trading volume of $9 million in the past 24 hours.
5. Bithumb Global
Launched in May 2019, Bithumb Global is the international platform of Bithumb Korea. Since launch, the platform has on-boarded more than a million users, according to Javier Sim, co-founder and managing director at Bithumb Global. The platform supports cryptocurrencies and fiat. Overall, it's active in 124 markets with a trading volume of over $55 million over the past 24 hours.
6. Liquid
Launched in January 2014, Liquid is a crypto exchange based in Japan. The platform supports both cryptocurrencies and fiat. The platform is licensed by Japanese FSA, which is quite reassuring for users. It's active in 127 markets with a trading volume of $153 million over the past 24 hours.
7. Kraken
As old as cryptocurrencies themselves, Kraken was established in July 2011. Based in the USA, the platform has built a solid reputation over the years. Currently, it supports cryptocurrencies, derivatives, stable coins, tokens, and fiat. All in all, it's active in over 121 markets with a trading volume of over $200 million over the past 24 hours.
8. Biki
Launched in June 2018, Biki is a crypto exchange that is based in Singapore. The exchange is known for being committed to their projects' growth, with targeted branding exposure for listed projects to penetrate into BiKi's global markets. On top of prioritizing their user's' interests, BiKi.com has pledged to use 100% of its platform fees to repurchase and burn the token until it decreases to a supply of 100 million from its initial token issuance of 1 billion. BiKi repurchases tokens on a daily basis and burns them quarterly. They recently launched new products such as launching Vietnamese Dong (VND) on BiKi Fiat, a lending product called FastLoan, Beta Test for Leverage Trading with 3x interest-free leverage trading.
9. Bitvo
Launched in 2018, Bitvo is a crypto exchange based in Canada. The platform allows users to buy and sell cryptocurrencies for free, with Zero trade fees, and free deposits. The platform is operated by banking and security experts. Funds on the platform are stored through cold storage to guarantee safety.
10. Delta Exchange
Delta Exchange is a  cryptocurrency derivatives exchange that offers futures on bitcoin and 19 leading altcoins. The exchange offers up to 100x leverage and is known for its focus on altcoin futures. Many of these altcoin futures, for example Waves, Enjin, Ravencoin are exclusive to Delta. The exchange is legally structured in St. Vincent & the Grenadines and has offices in Singapore and India. The team behind Delta is comprised of seasoned Wall Street professionals from companies like Citi and UBS and serial entrepreneurs.