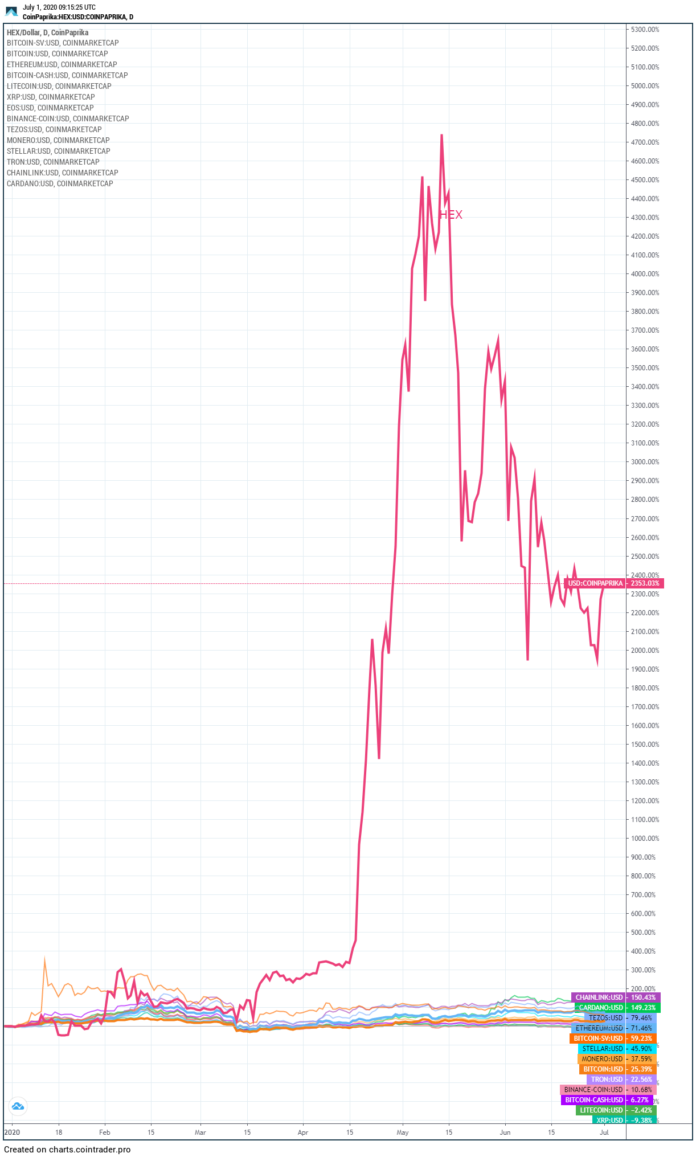 HEX, the first blockchain certificate of deposit looking to rival every top coin, has leaped higher over the last 30 days, adding more than +750% and making the top 25 cryptocurrencies worth more than $450 billion in total for the first time since launched.
The HEX marketcap has now passed both Dogecoin and ZCash after a strong few months to take the twenty-fifth spot in the rankings of the world's biggest cryptocurrencies by market capitalization, according to Coinpaprika, which tracks most major digital tokens. HEX's recent rally has seen its price climb above the $0.006 each HEX mark.
HEX has outperformed all major coins including bitcoin itself over the year, with its price climbing over 10,000% since its bull run began in mid-April.
HEX Price Did 110x in 120 Days
Speaking of, HEX is a great coin that enjoyed the beginning of 2020 when its prices rose significantly across January until early May. Even March was a bad month for the crypto after it witnessed a stall in price and crashed later on March 13, HEX against the situation to stay uphill. Still, it looks like HEX is going to make another all-time high with the coin trading at $0.006 with $450 Million Marketcap at the time of the article writing.
The last few days have seen serious price action, The serious uptick was marked by HEX rally on last week, briefly unseating Zcash in the cryptocurrencymarketcap rank on coinpaprika. HEX also managed to amass some serious gains during the last few days, and it continues to trade in the green. HEX is now sitting pretty at the top 25 and it has gained a total of about 783 percent in the last 30 days.
HEX Liquidity reaches $14 Million with 33k Ethereum bid support that's count only on UniSwap Exchange. Even better HEX has the most on-chain exchange liquidity of any coin in the world except for ETH and stable coins.
HEX Get Viral, the Whales Keep Coming
Bitcoin holders and whales can still claim their free HEX from its December 2019 Bitcoin UTXO snapshot and yes it's free money. Every day there are many new whales that start claiming their HEX. Lastest in a catch, there is a guy who just claimed his HEX from almost 2 thousand BTC snapshots. This is a good thing where big players have started to enter and put their trust in HEX. Bitcoin Whales started to claim their HEX.
This could have a big effect if it continues to happen, more and more new whales will increase the volume, liquidity, even the price, and market cap of HEX itself. At present HEX is still round top 25 area of ​​the cryptocurrency market cap. HEX supporters confident HEX will be able to reach the top 10 in the near future.
HEX Looking to Rival Every Top Coin
For quite some time now, the community really confidence in the very promising HEX is rising exponentially as the twenty-fifth positioned cryptocurrency by market capitalization per time of writing $450 million is leading by the price increase as coinpaprika reported. On Friday, May 9th as reported on HEX Channel and Twitter while other coins experience movements that tend a stagnate if it compared with HEX. HEX is just to rival every top coin!
HEX has been the best performing major cryptocurrency over the year.
HEX is showcasing a unique gaining pattern in comparison to the cryptos, even the leader Bitcoin, by reaching 11,000 percent gains in 2020. Obviously, the important HEX's bid support and the community itself will be playing a major role if it holds ground.
Media Contact –

Name – Richard Heart
Email – [email protected]
Company – Pumpamentals.com
Country – London, United Kingdom
More about HEX: