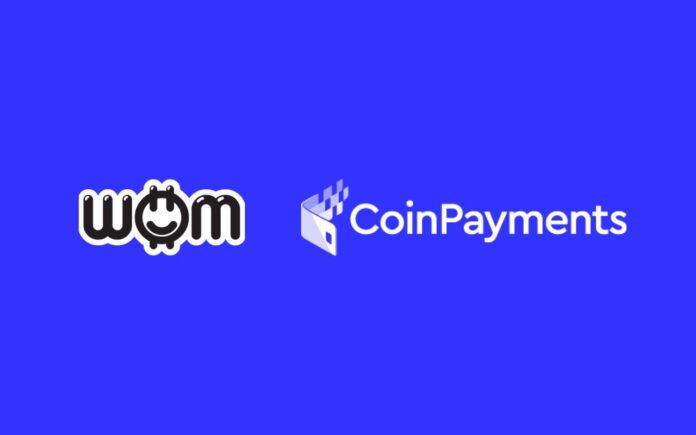 Singapore, 01 September 2020 — WOM Protocol, a next-gen MarTech solution that enables brands to leverage word-of-mouth recommendations, announced a partnership today with leading crypto payment solution provider CoinPayments to drive new ways for users to spend and use WOM Tokens.
The WOM Protocol, together with the WOM Token, provide a way to reward creators for recommendations without compromising consumer trust in the content. All recommendations are authenticated through the WOM Authenticator app, enabling the creators and authenticators to earn WOM Tokens as users engage with the content and make purchases.
CoinPayments, the world's largest crypto payments processor, offers a diverse set of merchant and consumer services including a shopping cart plugin for all major ecommerce platforms including Shopify, WooCommerce, and Magento. With this integration, WOM Token holders are now able to spend WOM Tokens on any ecommerce site that uses the CoinPayments shopping cart plugin. Users can also purchase gift cards to numerous retailers such as adidas, Nike, eBay, and Uber.
WOM Protocol is constantly seeking ways to enable creators and authenticators to use their WOM Tokens in addition to directly exchanging them on WOM-supported crypto exchanges. Further, WOM is integrating a new product that not only adds 2500 different gift cards, but also cash cards, and prepaid mobile top-ups that users can purchase with their WOM Tokens.
These new integrations are the next phase of making the WOM Protocol more accessible and user-friendly and increasing the adoption of the WOM Token.
About WOM
The WOM Protocol is scaling an entire ecosystem enabling monetization of word-of-mouth (WOM) recommendations for brands, creators, and publishers and will become the main marketing channel for brands, targeting the $335 billion annual digital marketing spend, and the main revenue stream for content platforms. The WOM Protocol is live and being tested with more than 900 brands—including adidas—and platforms with a network of hundreds of thousands of creators and authenticators.
More about WOM: https://womprotocol.io/
About CoinPayments
CoinPayments is the easiest, fastest and most secure way for merchants worldwide to transact in cryptocurrencies. It is the first and largest cryptocurrency payments processor with more than US $5 billion in total transactions to date, while supporting more than 1,900 coins, and is the preferred cryptocurrency payment solution for merchants and eCommerce platform providers worldwide. Founded in 2013, CoinPayments is dedicated to providing clients with fast, secure and user-friendly crypto payment APIs, shopping cart plugins, digital wallets, and a host of other solutions supporting cryptocurrency payment applications
Learn more at: https://www.coinpayments.net/